Dr. Michael Sesi offers many dental services in his office to improve the appearance, function, and health of his patient's smiles. Restorative dental care focuses on renewing the entire facial structure. General dentistry maintains the health of the teeth and gums and allows all patients to get the treatment they need. Once patients are in good oral health, they can receive cosmetic dental treatments that enhance their natural smiles. At Hartland Dental Care, Dr. Sesi works with patients as individuals to meet their oral health needs goals. On this page, we will review the dental services that Dr. Sesi and his dental team offer in Hartland, MI.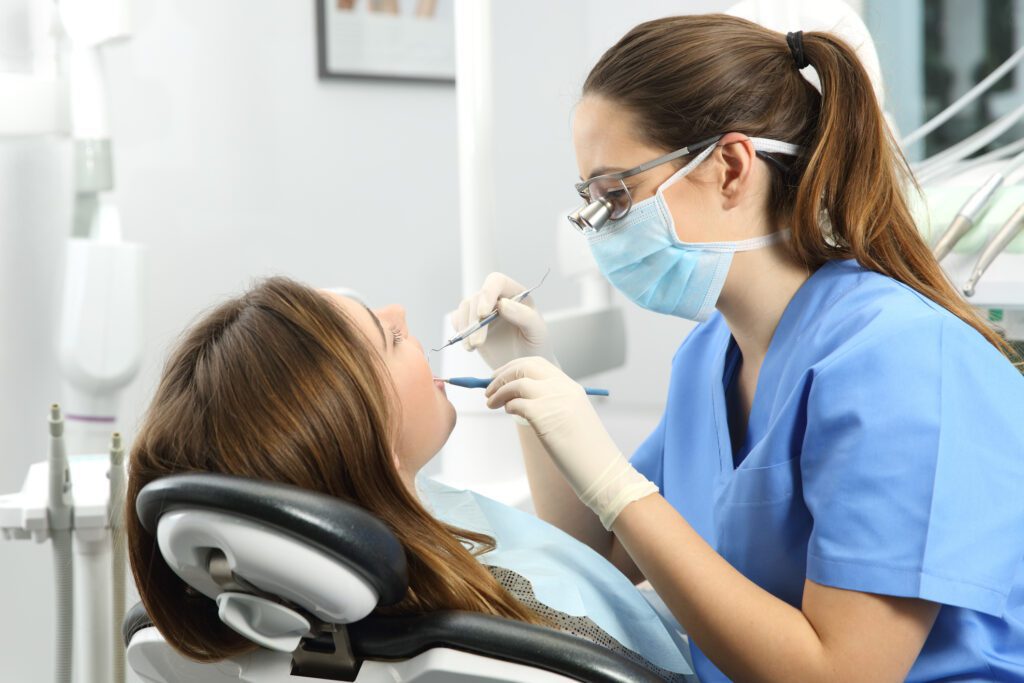 Dental Services in Hartland, MI
Below, you can find links to each type of dental care we offer in-office.
Cosmetic Dentistry
With cosmetic dental care, patients can get brighter and straighter teeth. Cosmetic options include:
Invisalign: Clear Invisalign aligners offer an alternative to traditional metal braces. Patients can remove their aligners so they can clean their trays and eat without restrictions.
Porcelain Veneers: Veneers are ultra-thin shells we bond to the front of damaged and discolored teeth. Dental veneers are a long-lasting cosmetic treatment for teeth in the smile line.
Dental Bonding: Similar to porcelain veneers, tooth bonding treatment can cover dental injuries or deep tooth stains. In addition, we recommend tooth bonding treatment for more minor imperfections affecting one or more teeth.
Teeth Whitening Treatment: Our in-office and take-home whitening treatments can brighten yellow, stained, or discolored teeth.
General Dentistry
Our office provides these general dental services to maintain the overall health of patients' smiles:
Custom Mouthguard: Wearing a custom-made sports mouthguard prevents dental injuries and tooth loss. We can also create a mouthguard for you if you have braces or another oral appliance.
Emergency Dentistry: If you require urgent dental care, contact our office. Our team can treat a variety of dental emergencies, from lost teeth to severe toothaches. 
Family Dental Care: Our family dental office provides care for patients of all ages. For younger patients, we provide preventative care against tooth decay and cavities. As patients age, they can visit our office for restorative and cosmetic treatments. 
Dental Lasers: Laser dentistry offers a modern way to treat gum tissue. We can gently contour gum tissue and remove diseased tissue to prevent the spread of gum disease.
Sedation Dentistry: We use nitrous oxide for painless, comfortable care. Dental sedation is also an excellent option for anxious patients.
Tooth Extractions: Sometimes, we may need to remove severely infected, overcrowded, or impacted teeth. Removing problem teeth prevents the spread of dental problems and further wear to natural teeth.
Sleep Apnea: We offer custom-made oral appliances to help patients with symptoms of sleep apnea. 
Restorative Dentistry
With restorative dental care, we not only treat patients' teeth but also address the gums and jaw joints. Dental restorations include: 
Dental Bridges: Bridges fill missing tooth gaps with false teeth. They effectively "bridge the gap" left by lost teeth.
Tooth Crowns: Crowns cover dental implants, injured teeth, and worn teeth. Our office uses dental crowns made of high-quality porcelain ceramic to blend in with the smile. 
Dental Implants: Implants are titanium posts that can secure a dental bridge, crown, or denture. We can place implants in the jaw bone to create a secure foundation for dental restorations. 
Partial and Complete Dentures: Patients with multiple missing teeth benefit from dentures. While traditional dentures can slip around the mouth, implant-secured dentures stay in place.
Gum Disease Treatment: We use deep cleaning treatments and laser dentistry to prevent gum disease and remove infected gum tissue. Treating problems like gum inflammation before it becomes gum disease helps patients save their gum tissue, which supports their natural teeth.
TMD Treatment: We provide nightguards to patients with temporomandibular joint disorders (TMD). Nightguards prevent further tooth wear and pain caused by teeth clenching and grinding.
Contact Our Dental Office Today
Dr. Sesi treats patients in Hartland, Parshallville, and Livingston County, MI. Call 810-255-5203 or schedule a dental appointment with us online.