Do you have a single missing tooth or a row of several lost permanent teeth? Try dental bridges. Bridges are used to "bridge the gap" left by one or more missing teeth. While patients can secure a bridge with adjacent natural teeth, we recommend dental implants for a longer-lasting dental restoration. Dr. Michael Sesi works with an oral surgeon to provide modern dental bridge treatment in Hartland, MI.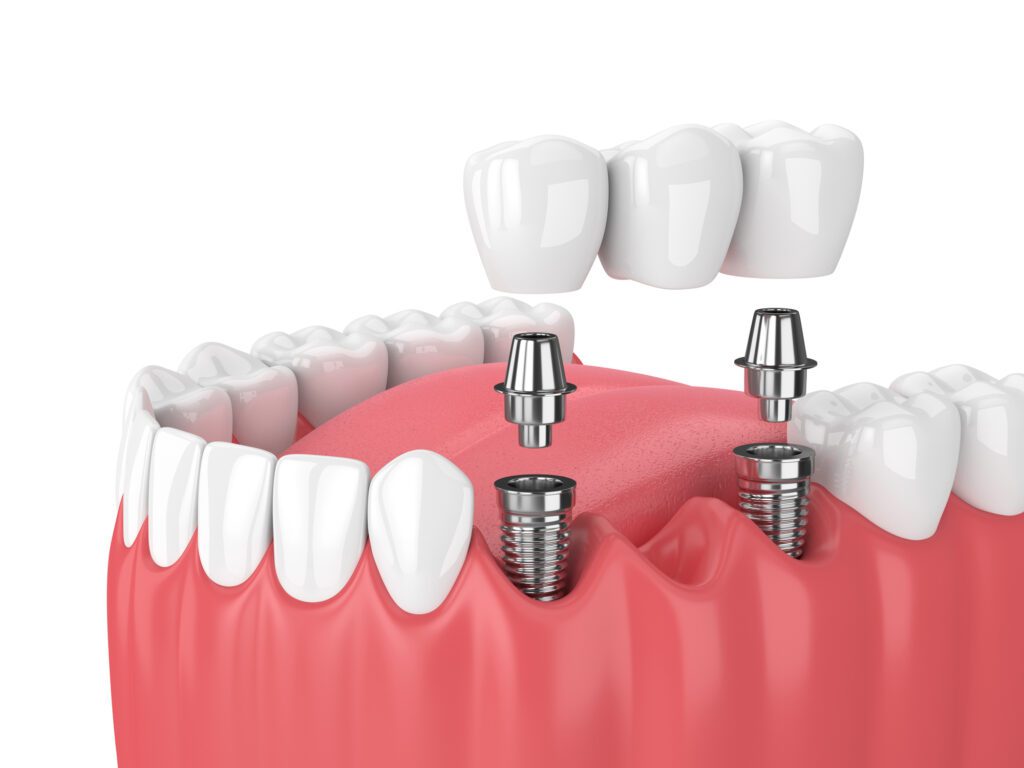 Traditional vs. Implant-Secured Dental Bridges
Dental bridges traditionally require support from adjacent natural teeth. A bridge consists of false teeth held in place with crown-capped teeth adjacent to a tooth gap. Traditional bridges need support from prepared natural teeth on either side of a single missing tooth or row of missing teeth. However, traditional dental bridges do not restore the full function of the bite. Traditional bridges also do not support the gum and bone tissue.
Alternatively, implant-supported dental bridges secure bridges at the root. Dental implants fuse with the jaw bone tissue beneath the gums to keep dental bridges in place. Implant-secured dental bridges make it simpler for patients to eat and speak with fewer restrictions on hard or chewy foods.
Treatment with Dental Bridges in Hartland, MI
Before treatment, we ensure that patients are in good oral health. We will also recommend bone grafting as needed if patients do not have enough healthy bone tissue to support dental implants. Then, we take dental impressions to create the custom dental bridge. We send impressions of the smile to a local dental lab that creates the bridge using high-quality porcelain ceramic and acrylic.
Patients who want an implant-secured bridge require implant surgery. Although the implant process takes several months, it ultimately creates a longer-lasting restoration. Our oral surgeon places implants in the jaw bone to support the dental bridge. Over a healing period, the implants fuse with the bone tissue to create stable support for the bridge. Once the permanent dental bridge is complete, we attach it to the implants.
Request a Dental Appointment
Restore missing teeth with a dental bridge. Call 810-255-5203 or schedule a dental consultation with our dentists online. Please let us know if you have questions about bridges or your particular treatment when will be glad to answer them for you.