Do you want to treat the teeth in your smile line? If you have crooked, damaged, or stained teeth that show when you smile, veneers can be one of the best options to treat your teeth. Porcelain ceramic dental veneers are a high-quality cosmetic dental treatment that can treat a variety of problems. Veneers are thin shells that can cover tooth gaps, stained teeth, misalignment, and dental injuries. We offer porcelain veneers to patients in Hartland, MI who want to address multiple cosmetic problems at once.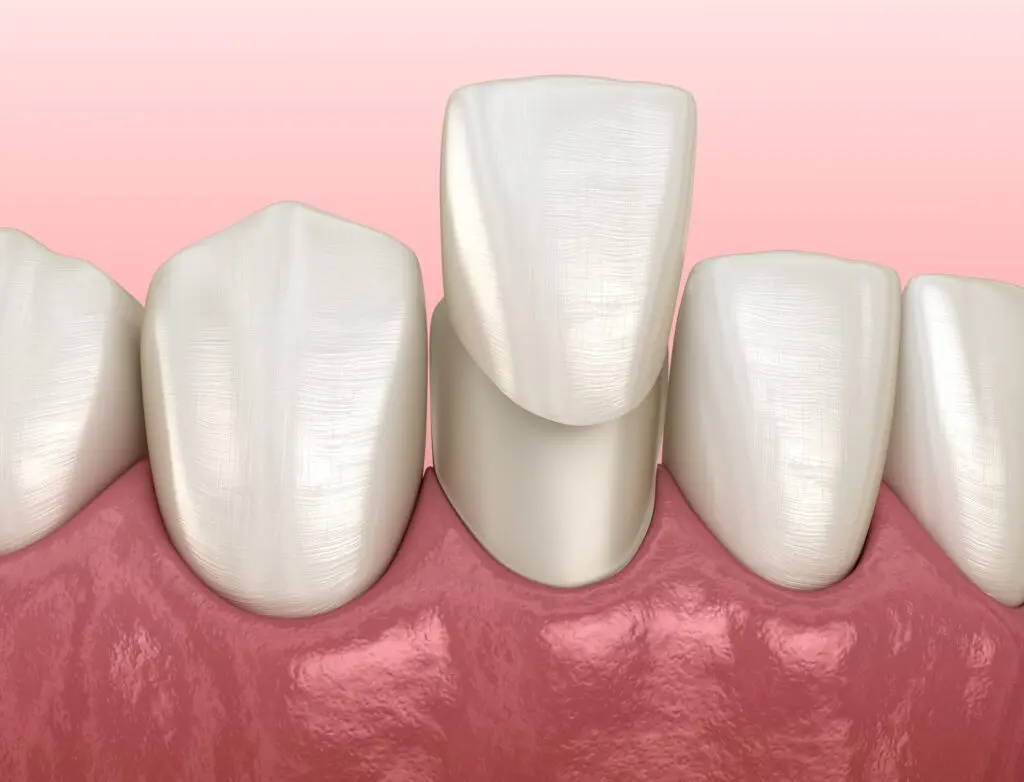 Treatment with Porcelain Veneers in Hartland, MI
Before we place the veneers, we have to prepare the natural teeth. We etch into the enamel, removing a small portion of the tooth's structure. Preparing teeth before placing veneers ensures that the veneers do not feel or look bulky. Once we prepare teeth, we create a dental impression which we send to a local dental lab. There, technicians create veneers to our exact specifications. When the dental veneers are complete, we ensure they are the correct size and shape. Then, we apply a bonding agent to the tooth and place the veneers. Finally, we clean and polish the porcelain veneers for a high shine.
Porcelain Veneer FAQs
Learn more about veneers with answers to these commonly asked questions: 
Am I a candidate for porcelain veneers?
Patients who still have the majority of their tooth structure are good candidates for porcelain veneers. We will recommend dental crowns if patients have severe tooth wear or dental injuries. Additionally, we will not recommend porcelain veneers if patients have bruxism. Bruxism, or teeth clenching and grinding,
How long do dental veneers last?
Veneers can last ten to fifteen years with the right care. For long-lasting results, patients need to avoid foods or beverages that can stain. Coffee, wine, tea, berries, and tomatoes contain pigments that affect the smile. Additionally, patients should brush their dental veneers just like natural teeth. Using a non-abrasive toothpaste and soft-bristled toothbrush minimizes damage to the porcelain ceramic.
Do dental veneers ruin teeth?
While we need to prepare teeth for dental veneers, this preparation does not damage the enamel. Veneers themselves do not damage natural teeth but cover areas of damage and dental injuries. However, patients cannot reverse their veneer treatment, so patients must be certain that they want veneers or other cosmetic treatments to cover their teeth.
How much are dental veneers?
The cost of your dental veneers depends on their material, the number of dental visits, and how many veneers you require. During your veneer consultation, we will review your options and help you determine if veneers are the right treatment for your budget, goals, and cosmetic needs.
Schedule a Dental Appointment Today
Do you want a straighter, brighter smile? Ask us about treatment with dental veneers. Call Hartland Dental Care today at 810-255-5203 or request your next dental visit on our website. Please ask us any questions about dental veneers or any other cosmetic options at your next appointment. We are here to help.